• Cake • Fruit • Illalangi • Sweet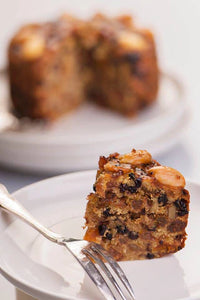 Ingredients: 50g Riverland walnuts 250g Riverland sun muscats 150g Riverland currants  200g Riverland sultanas  50g Riverland apricots  1 tsp cinnamon  1/4 tsp all spice  240g almond meal  3 Tbls Illalangi Extra Virgin Olive Oil  1/2 cup orange juice  3 eggs (Riverland laid)  1 1/2 tsp marmalade (optional)  30g Riverland blanched almonds Method: 1. Mix all ingredients together in a bowl. 2. Divide mixture into two small-medium lightly greased cake pans. 3. Top cakes with blanched almonds. 4. Cook covered with baking paper for 30minutes in a 150°C oven, remove baking paper and cook for another 25-30 minutes. 5. Glaze cakes...
---
• Gluten Free • Illalangi • Sweet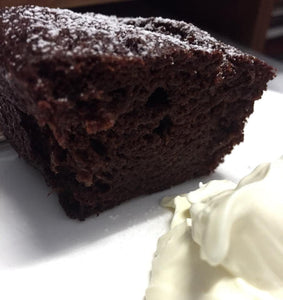 Ingredients:  125g Olive Oil Spread  1 cup dextrose, plus extra for dusting  40g raw cacao powder  2 tsp Wheatless plain flour  1/2 tsp baking powder  2 large Riverland eggs  pinch of salt Method: 1. Pre -heat oven to 180°C. 2. Melt the olive oil spread in microwave. 3. Add dry ingredients and whisk until smooth. 4. Crack the eggs into a separate bowl and lightly whisk. 5. Slowly pour the mixture into the eggs, whisking to combine. 6. Line a square (20cm x 20xm) baking tray with baking paper and evenly pour the mixture in. 7. Bake in the oven...
---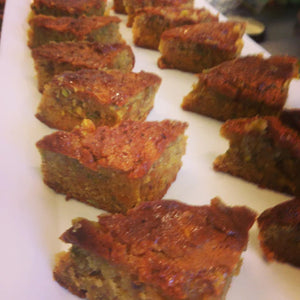 Gluten free, dairy free, and refined sugar free.
---
• Almond • Chocolate • Honey • Sweet
Similar to peanut butter cups, these bite sized treats have both good quality chocolate topping, as well as delicous chia & date almond butter.
---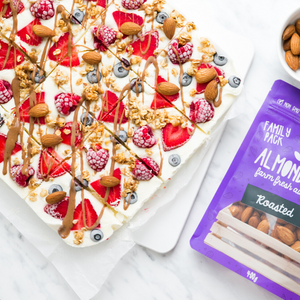 This colourful snack or healthy dessert is perfect for kids and adults alike, which is able to be broken into chunks just like chocolate bark.