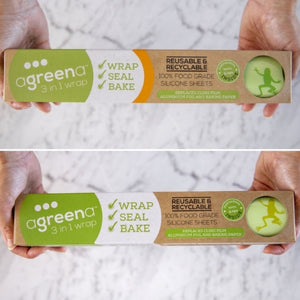 Agreena - Bakers Sheet 3-in-1 Reusable Wraps
Regular price
$24.95
$0.00
Unit price
per
Tax included.
The first re-usable, non-toxic & recyclable eco wrap that replaces cling film, aluminium foil & baking paper.
The only environmentally friendly film that wraps, seals & bakes!
2 Pack - Agreena Bakers Sheets - The same amazing 3 in 1 wrapping and sealing qualities as all other Agreena wraps, just baking tray sized! Each pack contains two sheets measuring 45cm x 30cm. A nice fit for a baking tray.
4 Pack - Agreena Wrap Pack - Contains four silicone wraps, two small (20cm x 20cm) and two large (30cm x 30cm), as well as instructions for use and care.
SAVING YOU AND THE PLANET!