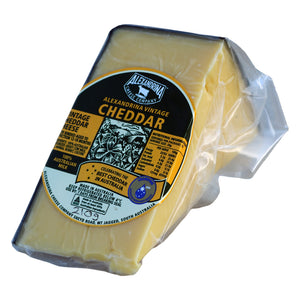 Alexandrina Cheese Co. - Vintage Cheddar
Regular price
$11.40
$0.00
Unit price
per
Tax included.
ONLY AVAILABLE FOR PICK UP IN-STORE 
 Alexandrina's Vintage Cheddar is presented in its cloth bound black wax rind. 
It is a cheese with a firm, smooth texture with nutty, savoury and slightly caramel flavour. This cheese is a handmade closed-textured, cloth-rinded Jersey milk Cheddar matured for over 12 months. This Cheddar is produced using traditional Cheddaring techniques in a 1,000 litre open vat. It has a gentle sharpness, balanced with a sweet mellow after-taste, and its beautiful flavour remains on the palate. It is a grand Cheddar which is aged especially for a connoisseur of fine cheese. Matches red and fortified wine. 
Serve this cheese | on a platter with walnuts, quince paste and seasonal figs.
33.8 % minimum fat |