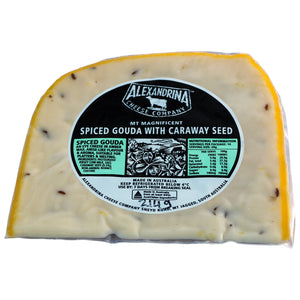 Alexandrina Cheese Co. - Spiced Gouda
Regular price
$8.55
$0.00
Unit price
per
Tax included.
ONLY AVAILABLE FOR PICK UP IN-STORE  
Alexandrina's Mt Magnificent Spiced Gouda – matured for 6 months 
Mt Magnificent Spiced Gouda is a buttery full cream Jersey milk cheese showcased in a neutral wax, it has a warm golden colour with a savoury flavour. 
This cheese has a silky, supple texture and a delightful aroma and flavour. 
We recommend a crisp white wine to complement the creamy dairy flavour profile in the cheese. 
Serve this cheese | on a platter with green pears, pistachio nuts, and crimson seedless grapes.
27.2 % minimum fat