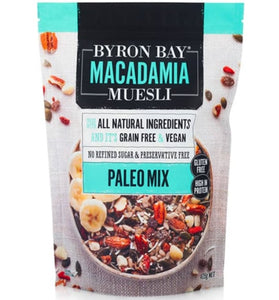 Byron Bay - Muesli - Macadamia Paleo Mix - Bulk - per 10g
Regular price
$0.40
$0.00
Unit price
per
Tax included.
A delicious raw vegan & gluten-free blend of organic seeds, nuts and organic fruit. This Paleo Mix is packed with healthy and natural ingredients, just like our ancestors used to eat. Put simply, it's the food of the hunter-gatherer. Grain-free, unprocessed, high protein, low-carb and with no added refined sugars.
Grain-Free
Paleo
Gluten-Free
Dairy-Free
GMO-Free
No Added Refined Sugar 
No Added Salt
Preservative and Additive Free

Vegan
Ingredients
Sunflower Kernels, Organic Pepitas, Organic Shredded Coconut, Almonds, Macadamia Nuts, Pecan Nuts, Organic Sultanas, Organic Diced Apple, Organic Goji Berries, Flaxseed.
Suggested Serving Size: 50g
Nutritional Information Per 100g
Energy - 2420kj
Protein - 18.7g
Dietary Fibre - 11.2g
Fat total - 48.1g
Trans Fat - <0.1g
Saturated - 11.6g
Carbohydrates
Total - 13.7g
Sugar - 11.2g
Sodium - 20.0mg
Gluten - NIL