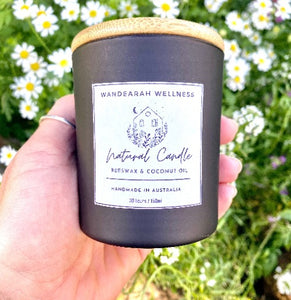 Wandearah Wellness Beeswax Candle - 150g / 30 h
Regular price
$20.00
$0.00
Unit price
per
Tax included.
100% Natural Candles made with local Beeswax & Coconut Oil.
No added scents.  No nasties, Non-toxic and Chemical Free.
Approx. 150ml / 30 Hour Burn time.
These beeswax candles are handmade in Waikerie from beeswax that is produced by local Riverland honeybees.
Beeswax is a natural, renewable resource which means no air pollution.
Benefits:
* Zero chemical compounds. Because beeswax candles are all-natural, they don't produce any toxic byproducts when they burn.
* Neutralize odors in your home. Beeswax candles add a naturally sweet aroma to your home.
* Environmental friendliness.
* Longer burn time.
To prevent fire, always burn candles within sight.
The first time you burn your candle make sure to wait at least 3-4 hours or until the wax pool liquefies to the edge of your glass.
Once the wax pool is completely melted on the top, then you can blow out your candle.
Do not burn for more than 4 hours at a time.