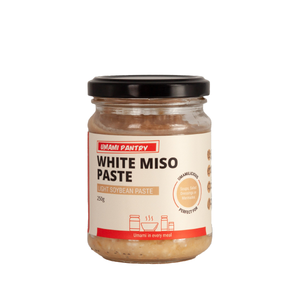 Umami Pantry - White Miso Paste - 250g
Regular price
$7.00
$0.00
Unit price
per
Tax included.
The Umami Pantry range brings a new level of flavour to your kitchen. Amp up the Umami and make your food stand out. What is this Umami that everyone keeps talking about? Put simply, it is a delicious savoury flavour... it is that flavour that you get in some foods that leaves your taste buds so roundly satisfied that they couldn't imagine not having more. 
White Miso is typically the lightest in flavour of all the Miso and can even be sweet with almost no salt flavour perceptible.
Umami Pantry White Miso is a mellow style of White Miso, meaning that it is lighter than most miso but still salty. A good all-rounder, this Miso will work well in soups, marinades, salad dressings and even sweet applications.
Quick ideas - Miso mayonnaise (just like Kewpie but better!), Miso mashed potato and Miso caramel (think salted caramel flavour bomb).