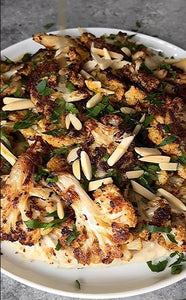 Ingredients: For the Cauliflower: 1 medium sized cauliflower (about 1 1/2 lbs), stem removed and cut into florets 2 tbsp unsalted butter, melted 1-2 tbsp Illalangi EVOO 2 tbsp chopped parsley 1/2 tbsp Illalangi Wattle Seed Balsamic Zest of 1/2 lemon 1/2 tsp Murray River salt 1/2 tsp paprika For the Whipped Ricotta and White Beans: 1 cup white beans, drained (about 1/2 15-ounce can) 6 tbsp ricotta cheese 1 tbsp chopped parsley 1/2 tbsp lemon juice 1 tsp Illalangi EVOO 1/2 tsp cumin 1/2 tsp Murray River Salt 1/4 tsp pepper 1 small clove garlic Toppings: Slivered Almonds Half...
---
• Salad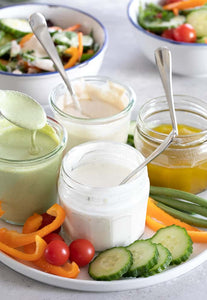 Make dressings as you need them and store any leftover dressing in the fridge for up to a week. They are simple to make, taste sensational and have no artificial flavours, additives or gums that are in many store-bought dressings. The most straightforward vinaigrette of all contains the following ingredients: ½ tsp of Murray River Salt 1 tbsp of red wine vinegar 6 tbsp of Illalangi EVOO Fresh mountain pepper berries ground to taste Method: Simply whisk all these ingredients together to create your simple salad dressing, and drizzle over your salad at the time of serving. Ingredients within this...
---
  Click here to download the recipe!