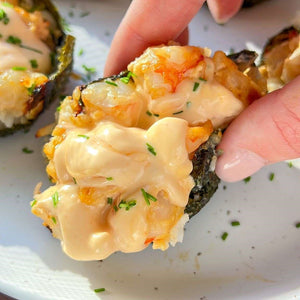 Ingredients: 1 cup of cooked rice 2 sheets of nori cut into 3.5-inch squares 7 peeled and deveined jumbo shrimp cut into small cubes pinch of salt ¼ cup softened cream cheese heaping tablespoon mayo dash of sriracha or any hot sauce is optional 2 teaspoons of soy sauce, coconut aminos, or tamari extra spicy mayo + chives for garnish Method: Thaw the shrimp as per the package directions. Pat it dry and cut the thawed shrimp into small cubes, make sure the cubes are all more or less equal in size. Add the cubed shrimp to a bowl with...
---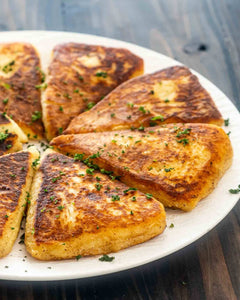 A super easy recipe for

 

Irish Potato Cakes

 

also known as

 

Potato Farls. Yukon gold potatoes are mashed with butter and flour then formed into triangles and fried to perfection. These Potato Cakes are incredibly creamy on the inside and super crispy on the outside, making for an exceptional side dish for almost any occasion.
---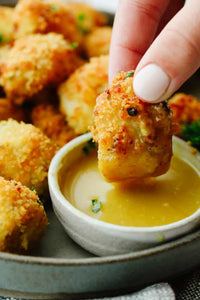 Serves 4 Ingredients: 500g chicken breast cubed 1/2 cup flour 1/2 teaspoon salt 1/4 teaspoon pepper 1/4 cup Illalangi extra virgin olive oil 3 cloves garlic minced 1 cup Panko 2/3 cup grated parmesan 1 teaspoon dried parsley 1/4 teaspoon paprika   Method: In a small bowl whisk together the flour, salt and pepper. In a separate small bowl whisk the oil and minced garlic. In another small bowl combine the Panko, parmesan, parsley, and paprika. Place the tenders in the flour mixture, then the oil, and lastly the Panko. Make sure to evenly coat each one. Spray the air fryer basket...
---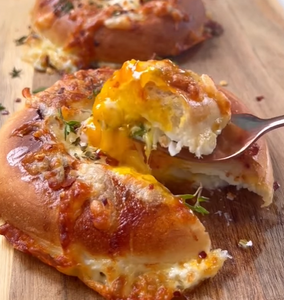 Ingredients: 1 Bagel Illalangi Extra Virgin Olive Oil Grated Mozzarella or Cheddar 2 Small Eggs Chilli Flakes Method: Cook in airfryer or oven for 6 minutes at 180°Cz   Credit to HealthyFitBella
---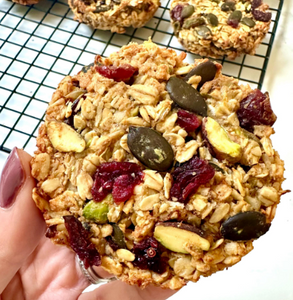 Makes 10 cookies  Ingredients: 2 tbsp ground flax seeds 2 cups gluten free oats 2/3 cup desiccated coconut 1/2 cup almond butter 1 mashed banana 3 tbsp maple syrup 1/2 tsp baking powder 1/4 cup dried cranberries 1/4 cup pumpkin seeds 1/4 cup pistachios Method: 1. Preheat oven to 160C fan 2. Prepare your flax 'eggs' by mixing two 2 tbsp of ground flax with 5 tbsp of water and set aside 3. Add all the other ingredients to a large mixing bowl and add in the flax eggs. Stir well to combine 4. Divide into 10 equal portions and mould...