• Illalangi • Lamb • Savoury • Slow Cooked • Soup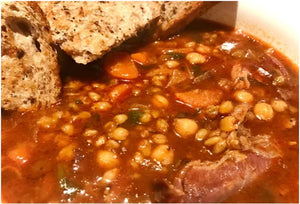 Ingredients:  4 SA Free Range Organic lamb shanks  1 cup of South Australian wholegrain Freekeh  450g of Pangkarra retorted chickpeas  2 tbsp of Illalangi Extra Virgin Olive Oil  1 bunch of fresh coriander, 1 handful parsley, chopped.  1 jar of Illalangi Pasta Sauce  1.5 litres water (750ml for casserole)  4 medium carrots, cubed  3-5 stalks of celery  5 wedges of Illalangi Preserved Lemons or limes, or combination of both finely diced.  1.5-2 Tbsp of G-Fresh Moroccan Spice  4 cloves of crushed garlic  Salt and pepper to season Method: 1. Brown shanks with onion, Moroccan spices and garlic in olive oil...
---
• Illalangi • Lamb • Slow Cooked • Wine
Click here to download the recipe!