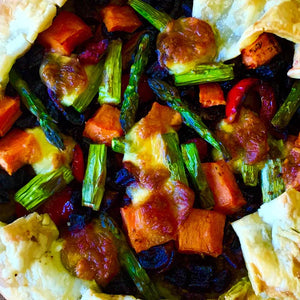 Ingredients:  1 sheet of Puff pastry  La Casa De Formaggio Baby Bocconcini  2 medium beetroots (cubed)  1 medium red capsicum (cubed)  1 medium red onion (finely sliced)  Handful of Mushrooms (sliced) - optional  Illalangi Extra Virgin Olive Oil (evoo)  1 medium Sweet Potato (cubed)  Illalangi Kale Pesto  3 spears fresh asparagus  Illalangi Caramelised Wattle seed Balsamic (to your liking) Method: 1. Fry beetroot, onion and mushroom in Evoo until soft. 2. Add sweet potato, capsicum and asparagus. 3. Add in Caramelised Wattleseed Balsamic. 4. Turn off heat and place a lid on the pan to let the vegetables finishing cooking....
---
• Caramelised • Illalangi • Sweet • Tart
Click here to download the recipe!