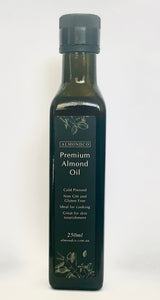 Almondco - Almond Oil
Regular price
$10.00
$0.00
Unit price
per
Tax included.
Almond Oil
From Cold pressed Almondco almonds this unrefined oil has retained its natural golden color, mild fragrance and nutritional benefits.
Almond oil has a clean flavor that pairs perfectly with fish or poultry and green vegetables. This versatile product can be used as a premium dressing oil or as a healthy substitute for other cooking oils, with a flash point of 210 degrees. 
Widely used for aromatherapy and massage this premium product contains levels of Vitamin E, B and P, making it perfect for skin nourishment.
Cold pressed – Non GM and Gluten Free – Ideal for cooking – Great for skin nourishment.