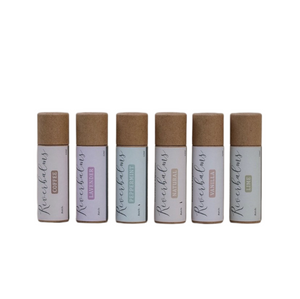 Riverbalm Beeswax - Lip Balms - 15ml - Compostable Tube
Regular price
$9.95
$0.00
Unit price
per
Tax included.
All balms are handmade in small batches with a signature blend of local beeswax and olive oil, as well as coconut oil.
All natural and edible ingredients, 100% safe for even our littlest of people.
Using the nourishing and repairing powers of local beeswax, local cold pressed olive oil and organic coconut oil, our lip balm will protect and soothe your lips this winter.
Natural
Ingredients: olive oil, beeswax, coconut oil
Lavender
Ingredients: olive oil, beeswax, coconut oil, lavender essential oil
Lime
Ingredients: olive oil, beeswax, coconut oil, lime essential oil
Vanilla
Ingredients: olive oil, beeswax, coconut oil, vanilla extract
Coffee
Ingredients: coffee infused cold pressed olive oil, beeswax, coconut oil, coffee oil, vanilla extract

Peppermint
Ingredients: olive oil, beeswax, coconut oil, peppermint essential oil