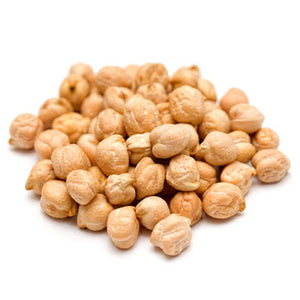 Chickpeas - Dried - Bulk - per 10g
Regular price
$0.10
$0.00
Unit price
per
Tax included.
Chickpeas are such a versatile ingredient – use them whole, or crushed to make falafel or veggie burgers, or mashed to a creamy consistency for hummus or a side dish.
How to cook dried chickpeas
Dried chickpeas generally need to be soaked before cooking as they are very hard.
Slow soaking dried chickpeas: Tip them into a bowl and cover with cold water, and use plenty of water as they will swell as they soak. Leave overnight or for 8-12 hours to absorb water and swell. Adding bicarbonate of soda can help the soaking process, especially if you live in a hard water area. It will soften the skins and, if you are making hummus, give a lighter, smoother result. Use 1 tbsp per 500g dried chickpeas.
Quick soaking dried chickpeas: Tip your chickpeas into a saucepan and cover them with lots of cold water, bring to a boil (again add bicarbonate of soda, if you like) and then boil for 1 minute. Turn off the heat and leave to soak for 1 hour.
Stove top cooking dried chickpeas
How long your chickpeas will take to cook will depend on how long they have been dried and stored for.
Drain your soaked chickpeas and tip them into a pan.
Add cold water until you have twice the volume of the chickpeas.
Bring the water to a boil, then turn the heat down and simmer the chickpeas for 45 mins (if you are going to cook them further in another dish) or up to 1 hour. Taste to see if they are tender. If not, continue cooking, checking the tenderness every 10 mins. Drain.
If you want to cook a whole bag at a time and freeze them in batches then cool them first. They will freeze for up to a month or keep in the fridge for up to three days.
Product from Ord River - a large river in Western Australia, known for its Kimberley Kabuli chickpeas – a delicious variety that is larger than other types of chickpeas and has a great nutty flavour.