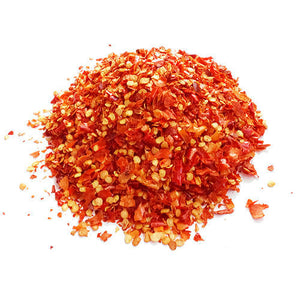 Dried Crushed Chillies - Bulk - per 10g
Regular price
$0.35
$0.00
Unit price
per
Tax included.
Crushed red chilli is a condiment consisting of dried and crushed (as opposed to ground) red chilli peppers.
Dried chillies have a very different flavour to fresh ones, as upon drying a caramelisation of the sugars takes place which creates a delicious, robust taste not found in fresh chillies. 
Dried chilli flakes not only make a vibrant and flavourful garnish, but a great addition to bread doughs, schnitzel crumbs, sauces, homemade sausages, scrambled eggs, frittata, meatloaf, ragu and countless other dishes.