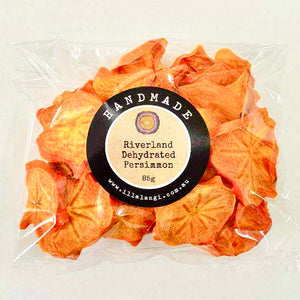 Riverland Dehydrated Persimmon - 85g
Regular price
$10.00
$0.00
Unit price
per
Tax included.
In Japan persimmons are known as "food for the Gods".   So if you want to experience the food of Gods, from the Riverlandwhy not try some of our dried Riverland Persimmons?. 
Made from 100% Riverland persimmon.
100% natural, 100% sulphur-free, 100% preservative-free, 100% additive-free and contains no added sugar.
Dried persimmon makes a scrumptious low-fat healthy snack, a great healthy addition to any kids lunch box and makes a convenient cooking ingredient for both sweet and savoury recipes.