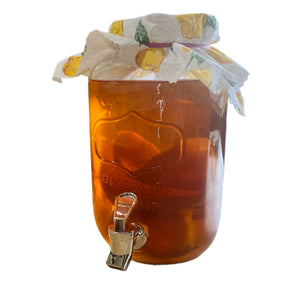 Illalangi Kombucha Kit - 3L
Regular price
$0.00
$0.00
Unit price
per
Tax included.
Contains
3L Kombucha Jar
Organic Kombucha Tea Mix
Cloth Cover
Free Fresh Scobi
Instructions
Add 3 litres of water to a very clean pot.
Bring water to boil.
Turn off and stir in 3/4 cup of white sugar. Add 4 Assam broken orange pekoe ( organic black )tea bags, 1 china green sencha ( organic green) tea bag and 1 sentimentali-T (fruit melange) tea bag.  Kombucha must have black tea in it.
Let this mix cool to room temperature, it will take a few hours.
Remove and discard tea bags.
Pour mix into a jar / jug etc that you want to make your Kombucha in. This can not be plastic.
Add 1 cup of Kombucha from previous batch or your starter Kombucha and your scoby to the tea mix.  Only touch the Scoby if you have very clean hands.
Cover with a clean tea towel or muslin cloth.
Leave in a warm dark place for 8 to 10 days. DO NOT DISTURB!
Your new Scoby should have formed on the top of your Kombucha.
Check and taste after 8 days. If its still to sweet leave for a couple more days.
It will take longer if the weather is cooler.
Once its to your liking, remove the scoby and 1 cup of the mix.
Bottle the Kombucha. You can add fresh fruit or flavoured tea bags at this time.
Leave bottles on a bench for 3 to 5 days. Release the gas then place in
fridge.
 If you leave out for to long a new scoby will start to form and the
pressure will build up.
To start another batch, use your cup of liquid you kept from the previous batch and the new scoby.
If you don't want to make another batch straight away store in a clean jar in the fridge until you are ready to make the next batch.