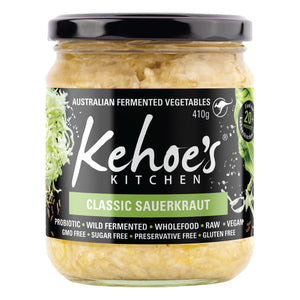 Kehoe's - Classic Sauerkraut - 410g
Regular price
$12.50
$0.00
Unit price
per
Tax included.
PICK UP IN STORE ONLY
Made by combining traditional sauerkraut ingredients of cabbage, caraway seeds and salt (and that's it) and using traditional fermentation methods, our fresh, raw, probiotic, Classic Sauerkraut is a mainstay in fridges across Australia.
Teeming with live probiotics, our Classic Sauerkraut is, as the name suggests, a very traditional tasting sauerkraut. Don't let that one bad experience you had eating warm, pasteurised, mushy 'kraut on top of a German bratwurst at your local festival or markets stop you from trying this diverse delight. Even one of our Grandmothers who migrated to Australia from Germany in 1960 thinks it's the best kraut she's ever tasted.
It's crunchy, it's flavoursome, it's the perfect accompaniment to salads, BBQ, sandwiches and almost anything else you eat. Check our social media for inspiration!
Serving Suggestions:
Serve as a condiment with meals or enjoy on its own.
Add to any salad to give crunch and tang.
Serve on toast, sushi, wraps and burgers with avocado, protein of choice and cashew cheese.
Add to top of soups when serving
Make a kraut salad
Make a kraut and cheese toasted sandwich
Serve on a platter with veggie sticks, antipasto and dips
Enjoy with cooked meats/meals to help with digestion
Add to rainbow bowls
Add to breakfast cook ups instead of ketchup for tang
Ingredients: Cabbage, caraway seeds & sea salt.
PROBIOTICS Wild Fermented – probiotic strains and quantity vary from batch to batch.  Probiotics may cause gas in the jar.  
Kehoe's Kitchen is 100% Australian owned and operated. Their products are made in Australia in their own facility. 99% of the ingredients in this sauerkraut are Australian grown, sourced from local Lockyer Valley farms.
Serving Suggestions:
Serve as a condiment with meals or enjoy on its own.
Add to any salad to give crunch and tang.
Serve on toast, sushi, wraps and burgers with avocado, protein of choice  
Make a kraut salad.
Add to top of soups when serving
Make a kraut and cheese toasted sandwich
Serve on a platter with veggie sticks, antipasto and dips
Enjoy with cooked meats/meals to help with digestion
Add to rainbow bowls
Add to breakfast cook ups instead of ketchup for tang