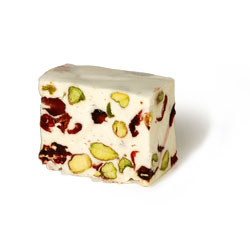 Nougat Limar- Cherry, Cranberry, Pistachio - Per Piece
Regular price
$2.50
$0.00
Unit price
per
Tax included.
 NOUGAT LIMAR is a creamy soft nougat and has a mouth-feel and texture that is typically french-style. It is not too sweet and not too chewy, yet is a tendré sweet that melts in your mouth.
Nougat Limar is made from the freshest nuts, grown mainly in Australia and is produced from only the finest ingredients.

The nougat is manufactured using the traditional method of pouring the hot syrup into the frappe' (egg-white whip) and finally adding the last ingredients and of course, Nougat Limar's exclusive vanilla essence that is imported and especially made for our product.
Nougat Limar is a wholly owned Australian enterprise.
Nougat Limar contains at least 33% nuts.

Nuts, in particular pistachios and almonds are cholesterol free and provide a good source of fibre and folate.
They are also a good source of many other vitamins and minerals.

The almonds used in any of the Nougat Limar varieties are in particular, pesticide free.