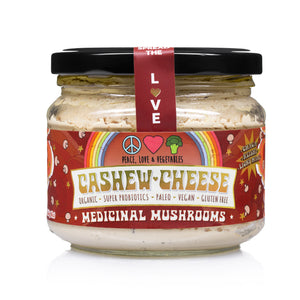 Peace Love & Vegetables - Medicinal Mushroom - Cashew Cheese 280g
Regular price
$15.50
$0.00
Unit price
per
Tax included.
ONLY AVAILABLE FOR PICK UP IN-STORE 
Australia's Healthiest Super-Biotic Vegan Cheese 
A revolutionary new concept with the combination of two of the most highly regarded natural medicines formulated into one easy to eat Cashew Cheese. Peace Love and Vegetables are producing the world's first true multi-strain probiotic vegan cheeses, using Super Stain Probiotics as their culture. Now with the ever-growing necessity to improve our gut health + strengthen our immune system, we're introducing to you an all-in-one health supplement as a delicious snack food.
The latest Medicinal Mushroom Cashew Cheese now not only embodies the benefits of 10 Super Strain Probiotics, but is also filled with three of the most highly regarded Medicinal Mushrooms of Ancient Wisdom & Modern Science; Lion's Mane for our improving our second Gut-Brain health + Cognitive function, Reishi for its potent adaptogenic properties that play a large part reducing stress in our everyday lives + providing spiritual wellness & peace of mind, and Chaga for it's well known and studied anti-oxidant properties, considered to be 'anti-cancer polypore'. These high-quality Mushrooms extracts are certified organic and tested for Beta-Glucans of 20%, found in each spoonful.