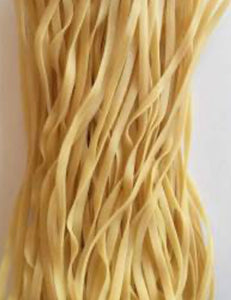 L'Abruzzese Pasta - Saffron Fettucine 250g
Regular price
$6.00
$0.00
Unit price
per
Tax included.
L'Abruzzese was established 40 years ago in South Australia by a family originally from the Abruzzo region in Italy. Their passion for the superb quality and taste of homemade pasta culminated in what is still today one of the most authentic artisan pasta produced in Australia. To this days the passion continues. We produce artisan pasta by using traditional methods, bronze dies and the very best Australian Durum Wheat Semolina recognised worldwide as one of the best for its hardness, nutritional qualities and purity.
They slow dry their pasta gently for up to 3 days and in doing so preserve its nutrition, texture, shape and exceptional taste.
Cooking Method:
Bring water to boil (1L/100g pasta). Add salt to taste. Add pasta and stir, so it doesn't stick. Cook for recommended time & stir occasionally. Strain & mix in with heated sauce & a little hot pasta water, extra virgin olive oil, and enjoy!
Recommended cooking time: 8-13 mins