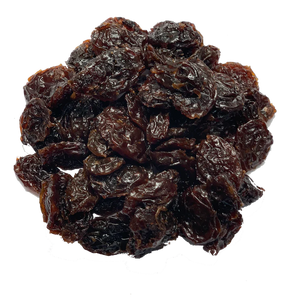 Raisins - Australian
Regular price
$4.00
$0.00
Unit price
per
Tax included.
Australian Raisins
Available in 375g or 1kg sizes. 
These berries are the largest in size and have a sweet, muscat flavour that gives your baking a big, dynamic flavour – they're brilliant on cheese platters too.
As well as their great flavour they are also a source of Fibre for digestive health and healthy tummies! Add a handful to your muffins for a delcious fruit boost.
Produced from a blend of Waltham Cross and Lexia grapes. It requires 4kg of fresh grapes to produce 1kg of Raisins. These varieties of grapes contain seeds which are removed during processing to produce what is termed as a Seeded or Stoned Raisin. No sulphur is added in the drying process of Australian Raisins.  The unique, sweet flavor of the Raisin is ideal for meat or fish dishes, cereals, cakes and desserts or as a confection.