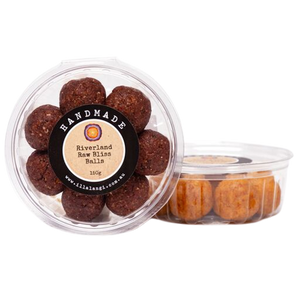 Riverland Raw Bliss Balls - 150g
Regular price
$8.50
$0.00
Unit price
per
Tax included.
Bliss balls, also known as protein balls, are great little energy suppliers. They serve as a healthy snack option for on-the-go and busy lifestyles.

Here are three reasons why bliss balls are great and actually good for you.
.
🌟They are full of nutritional benefits.
🌟They don't contain processed sugar.
🌟They are Gluten & Dairy-free

Our Bliss Balls use Riverland dried fruit and nuts, organic raw cacao and Chia seeds.  A healthy decadent treat to give you that guilt-free Chocolate hit.
Also available in our Gourmet Gift Hampers and Gourmet Grazing Platters
Ingredients: Riverland Sultanas, apricots, almond meal, walnuts, shredded coconut, raw cacao powder, chia seeds, olive oil, cinnamon and allspice.

NO ADDED GLUTEN, DAIRY, OR REFINED SUGAR.