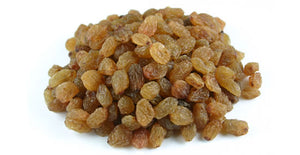 Sultanas - Australian - Bulk - per 10g
Regular price
$0.10
$0.00
Unit price
per
Tax included.
Australian Sultanas
With a reputation as the world's premium sultana, the Australian sultana has a natural light base colour that is not found from any other origin.  Sultanas are produced with the Thompson Seedless variety, which is the most common grape used for sultanas and raisin products globally.  Sultanas are dried on the vine, which is sprayed with a natural drying oil to at the time of harvest to fast track the drying process. The drying technique creates the light base colour that defines the sultana product.
Riverland sourced Sultanas. 

Sulphur Free
No artificial colours, flavours, or additives
Available in bulk, 375g, or 1kg sizes.