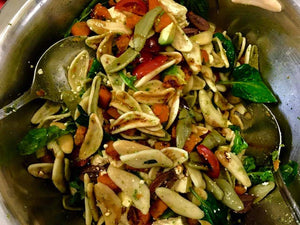 A delicious olive leaf pasta with cherry tomatoes, spinach, and olives.
---
Ingredients: 375g Fettuccine Baby Roma tomatoes 1 cup of fresh mixed herbs such as parsley, basil, oregano, thyme 100g of mushrooms 2 Tablespoons Kolophon capers. Illalangi Extra virgin olive oil for frying 150g grated Alexandrina Cheese James Flat Pepato, Romano or Vintage Cheddar 4 cloves of garlic Murray River salt and Mountain pepper for seasoning Grated Parmesan cheese for serving Method: Boil water in saucepan for pasta. Lightly fry garlic, mushrooms, tomato in oil in large fry pan. Add pasta to boiling water and cook till al dente, strain, reserving 1 cup of the water. Add pasta, fresh herbs, capers...
---
• Cheese • Gluten Free • Illalangi • Pasta
Click here to download the recipe!