• Balsamic • Chicken • Illalangi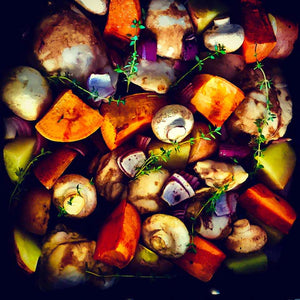 Ingredients:  6 chicken thigh fillets  2 large red potatoes, quartered  1 small sweet potato, cut into thick slices  1 medium red onions, cut into thin wedges  2 garlic cloves, unpeeled (optional)  3 fresh thyme sprigs  50 ml of Illalangi Caramelised Wattle Seed Balsamic  50ml Illalangi Extra Virgin Olive Oil  6 medium mushrooms, chopped  250g cherry tomatoes Method 1. Preheat oven to 220°C/200°C fan-forced. Arrange chicken, potato, onion, garlic and thyme in one large roasting dishes. Whisk vinegar and oil in a jug. Drizzle oil and vinegar mixture over chicken and vegetables. Season with salt and pepper. 2. Bake for 40...
---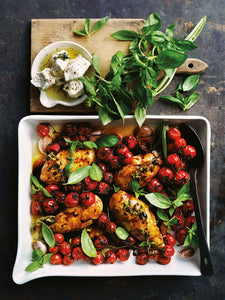 An absolute crowd favourite - maximum flavour for minimum effort!
---
• Chicken • Love My Earth • Savoury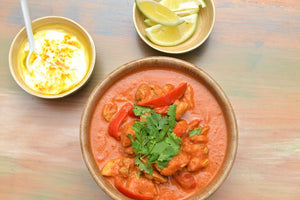 Ingredients: 2 Tablespoons of Illalangi extra virgin olive oil 2 Tablespoons of Love my earth butter chicken mix 600g of chopped chicken thighs 1 chopped onion 1 jar of Illalangi pasta sauce ½ cup coconut cream Optional- 1 cup of your favourite vegetables Method: Heat 2 tablespoons of oil in a frypan, 2 tablespoons of butter chicken mix and fry until fragrant Add 600g of chopped chicken thighs, 1 chopped onion and brown. (Optional step - add 1 cup of your favourite vegetables) Add a jar of pasta sauce and ½ jar (250ml) water. Bring to boil then simmer until chicken...
---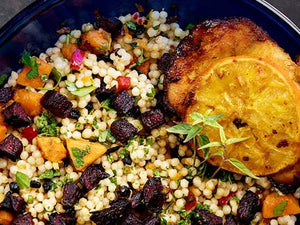 Ingredients Orange Spiced Roasted Chicken 2 kg of Chicken Thigh Fillets 1/3 cup of Fresh Orange Juice 1/3 cup of Honey 2 teaspoons of Extra Virgin Olive Oil 1 Tablespoon of Moroccan Spice 1 Navel Orange, thinly sliced   Pearl Couscous 5 tablespoons of Extra Virgin Olive Oil 2 cups of Pearl (Italian) Couscous 2 1/2 cups of water Extra water to cover couscous 1/2 cup of Riverland Currants 1/4 cup of fresh parsley, mint, and coriander 1 teaspoon of Moroccan Spice 1/2 cup of Red Capsicum, sliced and diced 1 cup of Beetroot, peeled and cubed 1 cup of...
---
• Chicken • Illalangi • Pesto • Savoury
Click here to download the recipe!