• Cake • Fruit • Illalangi • Sweet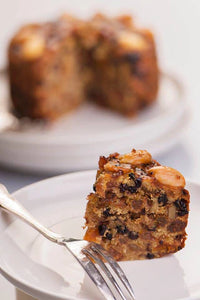 Ingredients: 50g Riverland walnuts 250g Riverland sun muscats 150g Riverland currants  200g Riverland sultanas  50g Riverland apricots  1 tsp cinnamon  1/4 tsp all spice  240g almond meal  3 Tbls Illalangi Extra Virgin Olive Oil  1/2 cup orange juice  3 eggs (Riverland laid)  1 1/2 tsp marmalade (optional)  30g Riverland blanched almonds Method: 1. Mix all ingredients together in a bowl. 2. Divide mixture into two small-medium lightly greased cake pans. 3. Top cakes with blanched almonds. 4. Cook covered with baking paper for 30minutes in a 150°C oven, remove baking paper and cook for another 25-30 minutes. 5. Glaze cakes...
---
• Cake • Extra Virgin Olive Oil • Fruit • Illalangi • Olive Oil • Pear • Riverland • Spice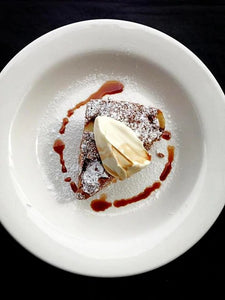 A simple, yet delicious pear cake made with our own extra virgin olive oil.
---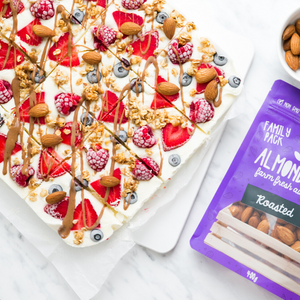 This colourful snack or healthy dessert is perfect for kids and adults alike, which is able to be broken into chunks just like chocolate bark.
---
• Balsamic • Caramelised • Fruit • Illalangi
Click here to download the recipe!