• Illalangi • Lamb • Savoury • Slow Cooked • Soup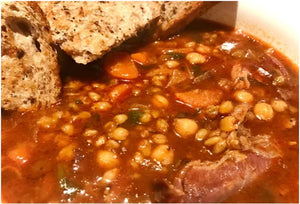 Ingredients:  4 SA Free Range Organic lamb shanks  1 cup of South Australian wholegrain Freekeh  450g of Pangkarra retorted chickpeas  2 tbsp of Illalangi Extra Virgin Olive Oil  1 bunch of fresh coriander, 1 handful parsley, chopped.  1 jar of Illalangi Pasta Sauce  1.5 litres water (750ml for casserole)  4 medium carrots, cubed  3-5 stalks of celery  5 wedges of Illalangi Preserved Lemons or limes, or combination of both finely diced.  1.5-2 Tbsp of G-Fresh Moroccan Spice  4 cloves of crushed garlic  Salt and pepper to season Method: 1. Brown shanks with onion, Moroccan spices and garlic in olive oil...
---
Ingredients: Extra virgin olive oil 5 kg mushrooms chopped 4 garlic cloves, crushed 1 large onion diced 1 litre vegetable stock 1tin Carnation Light & Creamy Evaporated milk Caramelised Wattle seed Balsamic Murray river salt & mountain pepper berries 1 handful fresh parsley, finely chopped, Fresh thyme & oregano 2 Tblsp Corn flour (GF)   Method: Make 1.5 litres of vegetable stock and place in slow cooker. Heat oil in a saucepan and fry onion, mushrooms in batches. Drizzle each batch with some of our balsamic vinegar to caramelise each batch. Add garlic, and fresh herbs and then add all...
---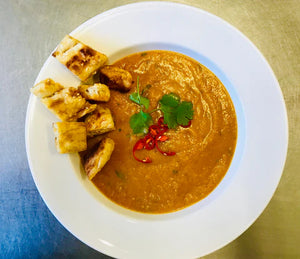 Ingredients 1 Glug Extra Virgin Olive Oil 1 Medium Onion (Chopped) 4 Garlic Cloves 2 Tsp Minced Ginger 1 Small Chilli (Sliced, for Garnish) 2 Tbsp Thai Red Curry Paste 1 Tsp Ground Cumin 1.2kg Kent Pumpkin (Peeled & Chopped) 750ml Urban Forager Stock 30ml Fish Sauce 100ml Lite Coconut Milk 3 Tbsp Almond Farmer Natural Almond Butter Good Grind of Murray River Salt 1 Handful Fresh Coriander 2 Fresh Chillies (Sliced) 1 Handful Lime Wedges Method Heat oil in a saucpan and fry onion until soft. Add garlic, ginger, chilli and curry paste and fry. Add cumin, butternut and stock....