• Beef • Illalangi • Lasagne • Vegetable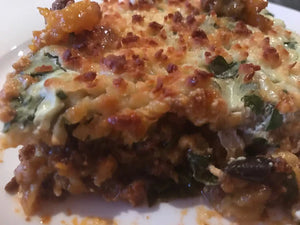 Ingredients:  500g beef mince  500g Alexandrina Ricotta  1 500mL jar of Illalangi Pasta Sauce 100g of baby spinach  400g of diced pumpkin  1 large eggplant diced  1 cup grated Alexandrina Romano cheese  Illalangi extra virgin olive oil for frying Murray River Salt and Mountain Pepper for seasoning Method: 1. Preheat oven to 180C. Heat oil in a large frying pan over medium heat. Add mince and cook, breaking up any lumps with a wooden spoon, for 5 mins or until mince changes colour and is cooked through. Add eggplant and pumpkin and cook, stirring, for 5 mins. Add pasta sauce...
---
• Breakfast • Extra Virgin Olive Oil • Lunchbox • Muffins • Murray River Salt • Snack • Sweet Paprika • Tumeric • Vegetable
Serves: 10 Ingredients: 1 cup (160g) spelt flour 1/2 cup (45g) rolled oats 1/2 cup (110g) cooked quinoa 2 teaspoons baking powder 1 teaspoon dried thyme 1 teaspoon sweet paprika 1/2 teaspoon ground turmeric  1 teaspoon red chilli flakes 1 teaspoon Murray River Salt 1 tablespoon Illalangi Extra Virgin Olive Oil 1 large leek, thinly sliced and chopped (white only) 4 garlic cloves, minced 4 spring onions, thinly sliced (green only) 2 (60g) large handfuls baby spinach leaves, chopped 1 medium carrot, peeled and grated 1/2 cup (125ml) Illalangi Extra Virgin Olive Oil 2 eggs, lightly whisked 1/4 cup (60ml)...
---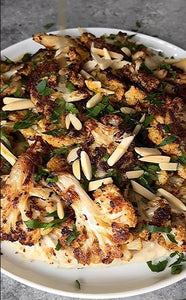 Ingredients: For the Cauliflower: 1 medium sized cauliflower (about 1 1/2 lbs), stem removed and cut into florets 2 tbsp unsalted butter, melted 1-2 tbsp Illalangi EVOO 2 tbsp chopped parsley 1/2 tbsp Illalangi Wattle Seed Balsamic Zest of 1/2 lemon 1/2 tsp Murray River salt 1/2 tsp paprika For the Whipped Ricotta and White Beans: 1 cup white beans, drained (about 1/2 15-ounce can) 6 tbsp ricotta cheese 1 tbsp chopped parsley 1/2 tbsp lemon juice 1 tsp Illalangi EVOO 1/2 tsp cumin 1/2 tsp Murray River Salt 1/4 tsp pepper 1 small clove garlic Toppings: Slivered Almonds Half...
---
• Cheese • Gluten Free • Illalangi • Vegetable
Click here to download the recipe!