• Balsamic • Illalangi • Riverland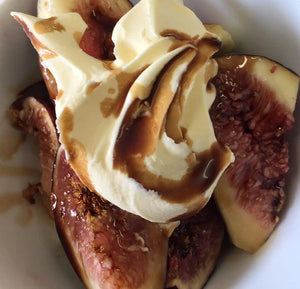 Ingredients:  3 Riverland Figs  Illalangi Caramelised Wattleseed Balsamic, depending on your liking.  Mascarpone cheese, cream or ice cream to serve. Method: 1. Slice figs into quarters. 2. Place a dollop of mascarpone cheese on top. 3. Drizzle Illalangi caramelised wattleseed balsamic over the top of figs and mascarpone cheese.
---
• Illalangi • Lamb • Riverland • Savoury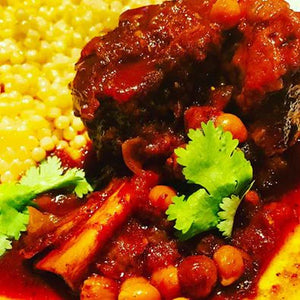 Ingredients: 2 From Nature Pastoral Company French trimmed Lamb Shanks  2-3 tablespoons Illalangi extra virgin olive oil  1 large onion, sliced thin  5 cloves of garlic, minced  1 tablespoon grated ginger  2 teaspoons ground coriander  1 teaspoon ground cumin  ¼ teaspoon cayenne  1 teaspoon paprika  ½ teaspoon ground turmeric  1 jar of Illalangi pasta sauce  1 cup Pangkarra chickpeas  ½ cup Riverland dried apricots, halved  2 cups of water 4 wedges of preserved lime  Murray River Salt and Mountain pepper  Chopped cilantro (for garnish) Method: 1. Preheat slow cooker. 2. In a large skillet, heat 2 tablespoons of olive oil...
---
• Cake • Extra Virgin Olive Oil • Fruit • Illalangi • Olive Oil • Pear • Riverland • Spice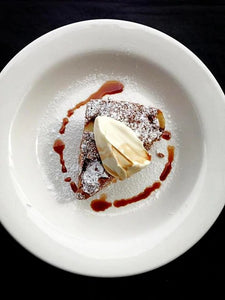 A simple, yet delicious pear cake made with our own extra virgin olive oil.
---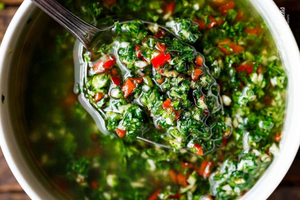 Ingredients 1 cup of Illalangi Extra Virgin Olive Oil 2 Tablespoons freshly squeezed lemon juice 1 packed cup of fresh parsley 1 cup of fresh coriander 8 cloves of garlic  1 large red chilli (finely chopped) 1 heaped tablespoon of capers Method Mix all ingredients in a food processor. Leave Chimichurri for 5-10 minutes to release all of the flavours into the oil before use. (Chimichurri can be prepared and refrigerated for 24 hours before serving) Chimichurri chicken Pour chimchurri over the chicken into a shallow dish until the chicken is coated. Allow the chicken to marinate for at least...
---
Ingredients: Extra virgin olive oil 5 kg mushrooms chopped 4 garlic cloves, crushed 1 large onion diced 1 litre vegetable stock 1tin Carnation Light & Creamy Evaporated milk Caramelised Wattle seed Balsamic Murray river salt & mountain pepper berries 1 handful fresh parsley, finely chopped, Fresh thyme & oregano 2 Tblsp Corn flour (GF)   Method: Make 1.5 litres of vegetable stock and place in slow cooker. Heat oil in a saucepan and fry onion, mushrooms in batches. Drizzle each batch with some of our balsamic vinegar to caramelise each batch. Add garlic, and fresh herbs and then add all...