• Illalangi • Lamb • Savoury • Slow Cooked • Soup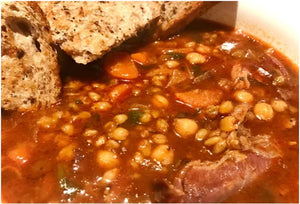 Ingredients:  4 SA Free Range Organic lamb shanks  1 cup of South Australian wholegrain Freekeh  450g of Pangkarra retorted chickpeas  2 tbsp of Illalangi Extra Virgin Olive Oil  1 bunch of fresh coriander, 1 handful parsley, chopped.  1 jar of Illalangi Pasta Sauce  1.5 litres water (750ml for casserole)  4 medium carrots, cubed  3-5 stalks of celery  5 wedges of Illalangi Preserved Lemons or limes, or combination of both finely diced.  1.5-2 Tbsp of G-Fresh Moroccan Spice  4 cloves of crushed garlic  Salt and pepper to season Method: 1. Brown shanks with onion, Moroccan spices and garlic in olive oil...
---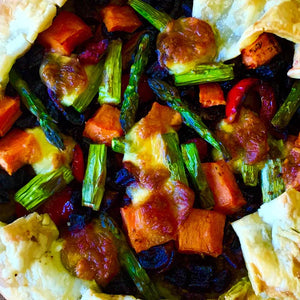 Ingredients:  1 sheet of Puff pastry  La Casa De Formaggio Baby Bocconcini  2 medium beetroots (cubed)  1 medium red capsicum (cubed)  1 medium red onion (finely sliced)  Handful of Mushrooms (sliced) - optional  Illalangi Extra Virgin Olive Oil (evoo)  1 medium Sweet Potato (cubed)  Illalangi Kale Pesto  3 spears fresh asparagus  Illalangi Caramelised Wattle seed Balsamic (to your liking) Method: 1. Fry beetroot, onion and mushroom in Evoo until soft. 2. Add sweet potato, capsicum and asparagus. 3. Add in Caramelised Wattleseed Balsamic. 4. Turn off heat and place a lid on the pan to let the vegetables finishing cooking....
---
• Illalangi • Lamb • Riverland • Savoury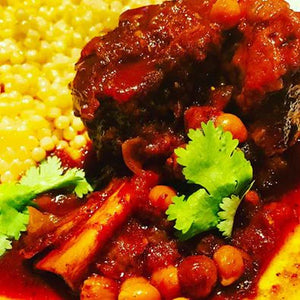 Ingredients: 2 From Nature Pastoral Company French trimmed Lamb Shanks  2-3 tablespoons Illalangi extra virgin olive oil  1 large onion, sliced thin  5 cloves of garlic, minced  1 tablespoon grated ginger  2 teaspoons ground coriander  1 teaspoon ground cumin  ¼ teaspoon cayenne  1 teaspoon paprika  ½ teaspoon ground turmeric  1 jar of Illalangi pasta sauce  1 cup Pangkarra chickpeas  ½ cup Riverland dried apricots, halved  2 cups of water 4 wedges of preserved lime  Murray River Salt and Mountain pepper  Chopped cilantro (for garnish) Method: 1. Preheat slow cooker. 2. In a large skillet, heat 2 tablespoons of olive oil...
---
• Illalangi • Lasagne • Savoury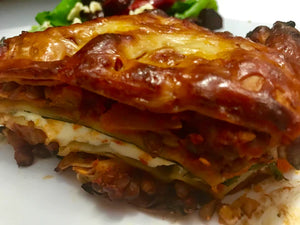 Ingredients:  1 Tbsp Illalangi Extra Virgin Olive Oil  1 brown onion, finely chopped  2 garlic cloves, crushed  900g Jap pumpkin, peeled cut into 1.5cm cubes  2 x 400g cans brown lentils, rinsed, drained  1/2 cup vegetable stock  700g Illalangi Pasta Sauce  500g Alexandrina ricotta  Pinch of ground nutmeg  375g packet fresh lasagne  120g baby spinach, finely shredded  1 1/2 cups grated Alexandrina cheddar  Rocket leaves, to serve Method: 1. Preheat oven to 190C. Grease a 26cm x 20cm x 6cm baking dish. 2. Heat oil in a large saucepan over medium heat. Cook the onion for 5mins or until soft...
---
• Illalangi • Savoury • Seafood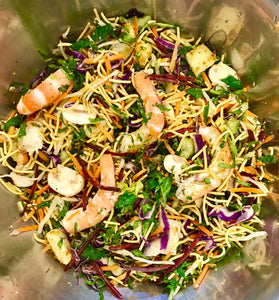 Simple, fast, perfect as a side or add seafood, chicken or beef.